Another time wasting tool for politicians?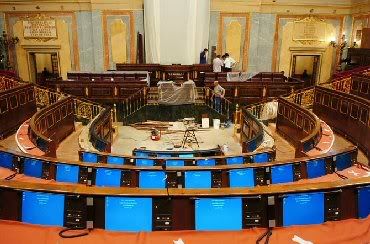 Spanish politicians have finished their holidays today and they have been welcomed to the Congress of Deputees by a shiny 15'' TFT screen showing a personalized Windows XP desktop.
It is supposed to help them read/write transcripts, have remote assistance from their team and gather instant information about whatever is being discussed in the Congress and I'm pretty sure they will have hard policies implemented, but after seeing it I have some questions flying around my head:
- How long will it take until a journalist takes and publish a pic of a deputee playing some kind of videogame or surfing sex sites?
-How long will it take until we see these computers infected by some kind of malware?
- Will they use it's idle processor time to contribute to any of the
distributed computing projects
that are around there (
SETi
,
Folding@Home
,
ClimatePrediction
, ...)?
Time will tell us.
Click on the pic if you want to see the
terminal in detail