Security != --Liberties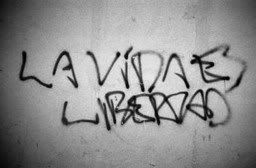 There are hundres of thing Europe can and should copy from the USA, but trading liberties and cutting down fundamental rights for more security is definitely not one of them.
It's clear that we must do whatever is in our hands to, using Clarke's own words, "defend our values of respect of tolerance of freedom and democracy against any who wish to destroy or replace them with some other doctrine, particularly if they seek to use violence to promote their ambition", but deportation laws like the ones he wants to be approved or the retention of all-type communications is not a good way of defending them.
Some politicians don't seem to understand that human rights apply to everybody, including terrorists, and that, as the graffiti in the pic says "life is freedom", and there's no life without it.
More info:
Yahoo News
Via:
The Register
Photograph Via:
The noise of a marginal life
Also published at:
Spitting-Image