Tips to know a web can be a scam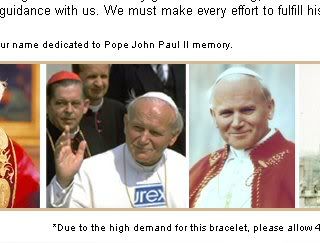 Imagine a website announced in
Google-ads
(something that gives a false sense of confidence in some people) that sells Joh Paul II memorial gifts like a T-shirt and a bracelet. You might avoid the fact that the website seems to have been made in less than five minutes and you might want to buy one of those precious items and wait 4-6 weeks for delivery 'Due to the high demand for this bracelet' but just one second before pressing the Add to Cart button you see a pic the catches your attention:
There's a pic of the Pope wearing a
Durex
t-shirt!!!!
It seems these guys have made a search in Google images for JPII pics and they took the first that came out.
Kinda lame, isn't it?