Better than Google? Add IceRocket quicksearch to Mozilla Firefox
At least I think so. Not only it's extremely fast loading, has several search tabs (web, blogs, news, phone cam pics, images, multimedia, people), and displays as many results as Google, but it adds three features that make you save time when performing a search.
- Each search result comes with it's own snapshot, something that can give you a slight overview of the website.
- It's 'Quick View' feature allows you to browse the page while you are still in the search engine page. This a really clever idea as it allow you to check the rest of the results while the site loads if it's a heavy one. It's expandable, so we really have two different quick view links.
- It has a link to the
Internet Archive
so you can see how the information has changed in the site along the years.
The
multimedia
search is astonishing and so is the
email a search
, which allows you to submit searches to xxxx@icerocket.com (xxxx stands for search=web search, news=news search, pics=picture search) by sending a blank email with the query string as subject. The system responds almost inmediately sending you the answers to your mailbox.
Others
tried to do something similar, but sms cost money.
I have met lots of people who also love this browser but, as most of them are Mozilla Firefox users, they tend to have Google as main search engine because it's already implemented in Firefox quicksearch box while Icerocket isn't.
As I couldn't find the plugin at
Mozdev
site, I decided to write my own. It works flawlessly so I have already sent it to Mozdev and I hope it'll get listed there soon. Until then you can install it from my personal webspace: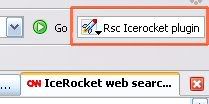 Icerocket Extension for Mozilla Firefox
[Escuchando: I wanna be your dog -
Sid Vicious
- Vive le Rock Live (5:30)]