Remapping the Maldives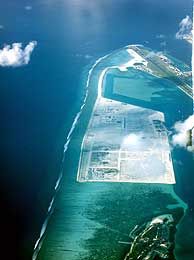 Historically, cartographers had problems to locate and correctly draw the Maldives until a century ago, and their hard work must be redone again.
The government has asked some cartographic organizations to help redrawing the more than 1200 islands the country has. According to the comments and photos some tiny islands lost several meters of shore, others disappeared under the water and a few of them even moved.
Reuter's press message in plain text
Full report with pictures
-
Translated by Google
Satellital images of the tsunami's effects
in other countries.
Edit: seeking for info about the now sunk islands I have found that some of them, like the Hulhumale, were refloated some years ago. Take a look at it
here
.
[Escuchando: Armagideon Tenoreko Aztarnak -
Fermin Muguruza
- Kontrabanda (0:-1)]