Creative boards to express our opinion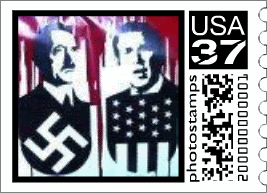 Americans have a nice protest weapon undercovered as mail stamps.
Photo-Stamps
is a company that allows you to create real stamps using whatever image you want (except porno pics), I wonder how many people will use this system as a weapon to show they're disagreement with the system.
I hope it will someday arrive to Spain. Until then we will have to keep on
making our own
or writing messages in banknotes.